Links to Directory - Page 1 of 2
Search
Welcome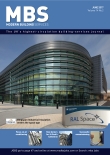 Welcome to Modern Building Services Online, the web edition of Modern Building Services (MBS) journal and the UK's most popular Building Services engineering site. Modern Building Services covers the entire Building Services Engineering industry. This site contains archived content from the journal, plus web-specific content.
When you go to our digital edition, you can also access the archive of digital editions.
<!CHANGE MONTH OF CURRENT ISSUE-->June 2017: DIGITAL EDITION
ARCHIVE OF DIGITAL EDITIONS
Subscribe

Modern Building services has a group
on Linkedin - join us!
Jobs
Lead Mechanical & Electrical Engineer

 Do you want to make a real difference? A unique opportunity has arisen for an established Lead Mechanical and Electrical Engineer to work in the Buildings and Construction group, the in house multidisciplinary design practice at Dorset County Council .........
more jobs »