Domestic hot water from condensing boiler
Published: 19 June, 2005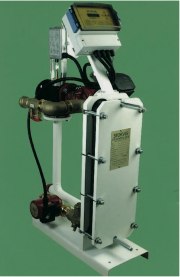 Designed to deliver instantaneous domestic hot water from a condensing boiler is the C series of Econoplate packaged plate heat exchangers.
Stokvis has redesigned its plate heat exchangers to operate with the low flow and return temperatures from condensing boilers. The C series of packaged plate heat exchangers is available in three ranges, a total of some 50 units, with outputs up to 742 kW.
They operate with primary flow temperatures of 70°C and achieve return temperatures around 45°C and are designed to provide hot water instantaneously, without the need for storage. For greater outputs, they can be coupled to a buffer vessel.
In generating domestic hot water, the plate heat exchanger is more efficient than coils and not subject to costly insurance checks. Their quick response raises water temperature from 10 to 60 °C in seconds, so there is no legionella risk. The small size of plate heat exchangers helps keep plant rooms small.
All C series packages have a fast-acting 3-port motorised control valve fitted to the primary circuit, modulated by a purpose-built PID controller, which senses secondary-water temperature. Primary water is constantly circulated by an integral pump matched to the heat exchanger, with an allowance of 6 kPa for pipework losses.
comments powered by

Disqus