Achieving the true potential of biomass boilers
Published: 01 April, 2015

Wood-chip installation at Croft Castle in Herefordshire
Against the background of a recent report that biomass boilers are achieving efficiencies that are too low for them to be promoted as a renewable source of energy, Dick Stephens of Euroheat argues that it is the sector that's inefficient not the technology.
If you read the damning report in The Guardian this January, based on a DECC study, you'd be forgiven for thinking biomass is a far less efficient 'renewable' option than previously claimed. The sensational article suggested that billions of pounds is being wasted on biomass and it will do little to help the UK meet its clean energy targets. However, what the study actually flags up is that there are some flaws in the sector that need addressing, and I believe that wood heating still has the potential to provide an energy-efficient and carbon-neutral alternative to traditional fossil fuels.
The study by DECC apparently found that biomass boilers in the non-domestic sector were around 10 to 20% less efficient than expected. To be promoted as a renewable source of energy, a technology must have an efficiency of at least 85%; according to DECC, the average rate of installed boilers was just 66.5%. The report then went onto claim that the biomass heating systems surveyed 'can only achieve levels around 76% (on average)'. While these statistics do indeed seem worrying, what they signify is a young industry that still has a long way to go in terms of getting things right.
Biomass works well and is extremely efficient in much of Europe, but the industry there is far more established in terms of the quality of equipment, experience of engineers and levels of end user knowledge. Using the right fuel in the right state is one of the most crucial elements to getting the most out of wood heating. Our boilers, which incidentally come from established European manufacturers, fitted by properly trained installers, reach efficiencies of over 90%, so what you have to question is inefficiencies in the sector, not biomass technology per se.
One of the key problems with commercial-scale biomass is lack of regulation. For the domestic RHI (Renewable Heat Incentive), all renewable technologies have to meet MCS (Microgeneration Certification Scheme) approval. However, there is no such standard for machines over 45 kW, allowing substandard boilers to potentially infiltrate the market.
The same is true of the installers that fit these larger machines; without MCS or equivalent, biomass boilers are being installed by engineers without the proper experience, product knowledge or support. Commissioning is key when it comes to a biomass application. If commissioning is not carried out correctly, how a system operates and its potential efficiencies will be compromised.
You can have the best boiler in the world installed by the most qualified and experienced engineer, but without end user knowledge a biomass heating system will not perform at its optimum.
The important thing here is fuel quality; poor fuel quality will reduce performance, leave damaging tar deposits in the system, and unhealthy emissions will be visible from the flue. It is therefore vital that installers fully explain correct fuel handling to their customers.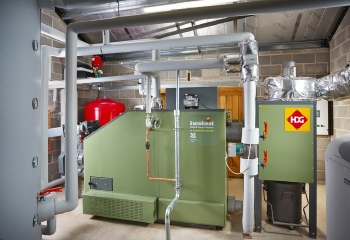 This wood-chip installation at Croft Castle in Herefordshire is expected to reduce fuel costs by over £10 000 a year compared with the previous oil and generate over £20 000 a year in RHI payments. It is part of the National Trust's investment in renewable energy.
In general, moisture must be 20% or less for logs and 35% for woodchip to ensure optimum boiler performance. Seasoned logs will have a higher energy value, providing more heat and lower emissions.
It is important that logs are split and left to dry in a well ventilated area for 12 months or more for the most efficient results. Wood pellets are more stable and should be delivered in the correct state if purchased from a reliable source.
This autumn will see the introduction of new 'fuel rules' for all RHI installations. Under the legislation, fuels must meet sustainability criteria in order for customers to continue receiving RHI payments, with a list of biomass suppliers to ensure end users choose reputable fuel providers.
In the same article in The Guardian, a leading heat-pump supplier was quick to damn its rival technology; heat pumps, however, are not without their flaws. My main argument with heat pumps, which we know can and do work in the right circumstances, is that unless they are powered by renewable electricity — hydro, solar, wind (even nuclear?) — they aren't renewable at all.
A coal-fired power station has a poor conversion ratio for generating electricity. Generally, they are 33% efficient. This means out of every three coal trucks that arrive, two of them go straight up the chimney. Gas is not much better, about 43%. So, if a heat pump has a coefficient of performance of three, meaning that for every unit of electricity it consumes it will deliver three units of heat, then in carbon terms, you might as well have delivered a few tonnes of coal to the site and let them burn it in boiler on site. Same energy delivered, same CO2 produced.
I am not saying heat pumps are bad and biomass is good, just that now, a few years down the line of our 'renewables revolution', everything has to come into question and be made better. Review and improvement is essential for ensuring the UK's long-term 'green' future. In order for Britain to move away from its reliance on fossil fuels, constructive criticism of renewable technologies and how they're delivered is welcome and imperative.
Dick Stephens is responsible for biomass sales with Euroheat.
comments powered by

Disqus