Calorex helps cuts swimming-pool running costs
Published: 15 June, 2006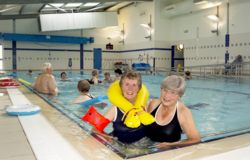 Patients at a specialist orthopaedic hospital are reaping the benefits of a purpose-built hydrotherapy pool featuring an HRD air-handling package from Calorex.
The operating costs of the hydrotherapy pool at a hospital in Oswestry are being sharply reduced by a purpose-designed system for dehumidification, ventilation and heat recovery.
The Robert Jones & Agnes Hunt Hospital has a national and international reputation for orthopaedic surgery and muscolo-skeletal medicine, including research into disorders of bone, joints and muscles.
The HRD system supplied by Calorex offers 300% heat recovery from exhaust air to pool water and/or air in the pool hall — compared to 50 to 60% from recuperator-type air-handling units.
Compared with a full-fresh-air ventilation system with a cross-flow plate heat exchanger, energy use can be reduced by up to 60%, with carbon-dioxide emissions cut by up to 55%.
In a leisure centre with 25 m and learners pools, an HRD system could reduce carbon-dioxide emissions by 250 t a year.
Hydrotherapy plays a key role in the rehabilitation of patients. Maintaining high water temperatures is vital to their comfort, and the HRD system provides a environmentally friendly solution while minimising the impact on the pool hall and the building structure.
An HRD system recovers latent energy from moisture-laden air and can return it for heating pool water or air in the hall. Sufficient energy is usually recovered to meet all the operational water-heating requirements, with some left for air heating. HRD systems are supplied as fully packaged units, including all controls.
comments powered by

Disqus