Air filters remove odours and chemicals
Published: 10 August, 2004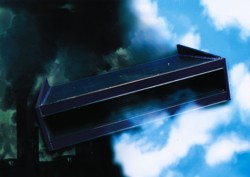 Designed for removing and destroying a wide range of industrial odours and fumes is Jasun Filtration's refillable Adcell.
Jasun Filtration has launched two novel systems for removing and reducing odours and chemical fumes from the workplace.
Chemisorb-Excel is a blend of high-grade carbon and alumina/potassium permanganate that destroys odours, corrosive gases and fumes. It is non-toxic and has been developed for ease of use and disposal. Among gases handled are ammonia, arsine, formaldehyde, hydrogen sulphide, nitrogen dioxide and sulphur dioxide, as well as contaminants normally treated with standard carbon products.
Designed for use with Chemisorb-Excel or with carbon granules are Adcell housings. They are made from durable polystyrene plastic and said to be up to 75% cheaper than standard discarb units; as only the granules need replacing, it is no longer necessary to dispose of the housing. Because air volume versus pressure drop is low, smaller, quieter and cheaper fans can be used.
Adcells are available with capacities from 277 to 1700 m3/h. and can easily be recharged with new media granules.
info@jfilters.com
comments powered by

Disqus