SAS helps Ikea bring a touch of style to its car parks
Published: 17 September, 2006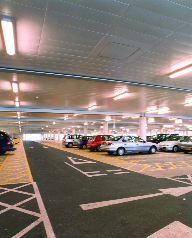 Creating the impression on an interior space in this Ikea car park and meeting the requirements for thermal insulation for the store above are specially developed metal ceiling tiles by SAS International.
Metal ceiling systems supplied by SAS International for undercroft car parks serving Ikea stores give the impression of them being internal spaces and also incorporate thermal insulation to meet the requirements of the Building Regulations between a heated commercial space and an external car park. The ceilings have been used at the Ikea stores at Edmonton and Milton Keynes.
The decision to use metal ceilings was partly aesthetics but also because they offer a life of over 25 years and have minimal maintenance requirement. They do not need redecorating and are very easy to clean.
SAS International worked closely with ceiling sub-contractors on both projects to develop this special solution. The company's System 150 was used as the basis, with attention to detail including special clips to prevent tiles moving in this semi-exterior environment, which is partially open to the elements.
comments powered by

Disqus