Hamworthy introduces accessories for Milborne boilers
Published: 15 October, 2006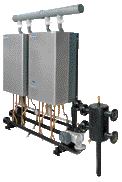 To simplify the design and installation of Milborne condensing modular boilers, Hamworthy Heating now offers a range of accessories.
Hamworthy Heating has introduced a range of accessories for its Milborne range of wall-hung condensing modular boilers. The accessories include fast-fit frame sets, pipe header kits, flue headers and primary-circuit kits. These kits are aimed at simplifying design and installation and complement the integral controls for multiple-boiler packages
The pipe header kits are designed for up to three boilers in line or four boilers free-standing back to back. Two boiler kits can be used in line up to an output of 400 kW.
Fast-fit frame sets are include with the pipe kits to support pipework. They can eliminate misalignment if walls and floors are uneven. The kits include header for flow and return water and gas supply. Condensate is discharged to a common manifold.
Flue header kits allow flues to be connected and run to a safe discharge point in according with the Clean Air Act. Class B1 fire-rated polypropylene push-fit components enable flue runs of up to 30 m.
Milborne boilers can be installed room sealed or with a conventional open flue. The 50 mm-diameter pipes can be discharged individually or into a common 125 mm-diameter flue header for discharging at a higher level. The flue header kit includes a non-return valve for each module to prevent flue gases flowing into boiler modules that are not firing.
Primary-circuit kits take care of design issues and ensure correct flow rates are maintained through each boiler module at all times. They include a matched Biral pump and low-loss header and are handed for left or right connection. There is a choice of in-line or corner arrangements.
comments powered by

Disqus