Oventrop reaches new heights in Manchester development
Published: 10 December, 2006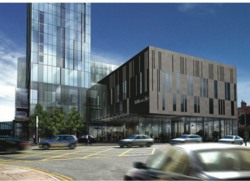 Control and regulation for the various heating and cooling systems serving Manchester's new Hilton Hotel are achieved by a wide range of Oventrop valves
Heating and cooling systems for the new Hilton Hotel in Manchester, which occupies the lower 24 floors of the 171 m-high Beetham Tower, incorporate valves supplied by Oventrop. The rest of the 47 storeys are residential accommodation.
This hotel has 279 rooms, and the Oventrop valves provide for commissioning, isolation, straining and hydronic balancing. They were selected by mechanical-services contractor Rotary NW.
The building has two plant rooms. There is one on the third floor housing boilers, chillers, air-handling units and ancillary plant. The other is on the 24th floor and houses equipment for the constant-temperature LPHW system for radiators and towel rails in the 22 floors of residential apartments.
The heating and cooling systems were installed by Rotary NW and comprise four gas-fired atmospheric boilers in the level-three plant room to serve air-handling units, corridor radiators and DHW plate heat exchangers. From the boilers, LPHW is fed into a flow header before being circulated into various LPHW heating systems. Radiators in hotel corridors on floors four to 24 are served by a variable-temperature system.
Comfort conditions in the hotel guest rooms on the fourth to 24th floors are delivered by a Daikin water-cooled VRV system.
A constant-temperature LPHW system serves 24 AHUs in the third-floor plant room via flow header and a duplicated system of pumps. Another constant-temperature system provides hot water for the residential part of the tower. The water is circulated to the 24th-floor plant room, where it passes through a plate heat exchanger for distribution to floors 25 to 47 as LTHW to each apartment for radiators and towel rails.
Two air-cooled chillers in the third-floor plant room provide chilled water for AHU cooling coils and the VRV heat exchanger. Each chiller has a duty of 800 kW with flow/return temperatures of 6/12°C.
comments powered by

Disqus