In-duct mixed-flow fans
Published: 05 June, 2007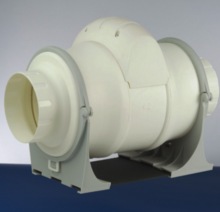 Mixed-flow in-duct fans can deliver high pressures with low noise levels.
Addvent's new range of in-duct mixed-flow fans are available as 100, 125, 150 and 200 mm models. They are designed to deliver higher working pressures in situations that require high airflow and low noise levels.
These fans can be mounted in series to develop higher pressures or in parallel to for increased airflow.
All these fans come with a 5-year guarantee.
comments powered by

Disqus