New Excel Web controllers make building automation easier and less expensive
Published: 05 August, 2007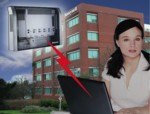 Building automation is now easier and less expensive with cost-reducing variants of Excel Web, a freely programmable building-automation controller from CentraLine by Honeywell.
Excel Web uses an existing Ethernet IP network for plant controllers and is operated via a standard web browser.
These new models have 52 and 104 points and are much more cost effective for smaller buildings than the original controllers with 30 and 600 points. All are compatible with LonWorks and BACnet.
comments powered by

Disqus