New Honeywell controller is more powerful than ever
Published: 06 October, 2007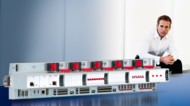 Honeywell's most powerful programmable controller to date — the Excel 800.
Honeywell describes its Excel 800 programmable controller as its most powerful control solution for heating, ventilation and air-conditioning to date. It is part of the Excel 5000 Open system and is price competitive, combining significant savings in installation, start-up and life-cycle costs. Capabilities include energy optimisation, free cooling, optimum start/stop and peak load limitation. Excel 800 has twice as much memory as the popular Excel 500 controller and is typically 50% faster.
New patented features include push-in terminals, connector bridges and cross connectors — making wiring five times faster than systems with screw terminals.
Defective input/output modules can be replaced while others continue to operate. The CPU automatically detects the replacement unit and automatically commissions and configures it — reducing or eliminating downtime.
comments powered by

Disqus