Boilers and Part L2 of the Building Regulations
Published: 11 November, 2007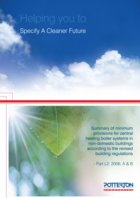 Potterton Commercial has produced a free, easy-to-follow guide explaining the minimum requirements for commercial boilers under Part L2 of the Building Regulations.
This 4-page guide breaks down the regulations to make them easy to understand. A glossary of definitions explains terms used in the legislation, such as seasonal boiler efficiency (SBE) and how to calculate it for single- and multiple-boiler installations.
The booklet also includes a guide to the seasonal efficiencies of the entire range of Potterton Commercial.
For more information on this story, click here:Nov 07, 153
comments powered by

Disqus