Top tips for boiler efficiency
Published: 05 October, 2011

Top tips — Mark Northcott
Boilers are not fit-and-forget items. Big savings can be achieved by improved controls, regular maintenance and attention to boiler insulation, flues and dampers — particularly on old installations. Mark Northcott gives some pointers.
There is no denying that renewable technologies are great headline hitters. Yet whilst the Government encourages take-up of this emerging sector for new build projects, the Building Research Establishment states that 60% of the buildings that will be standing in 2050 are already built and that 40% predate 1985 (the year that Building Regulations relating to fuel and power were first introduced under Part L). So if the UK is to come anywhere near meeting the Government's target of reducing greenhouse gas emissions by 34% by 2020 and 80% by 2050, it is vital that we look at simple energy-efficiency improvements to our existing building services.
About a third of the UK's total energy consumption is used for heating or producing hot water, claims the Carbon Trust, so it makes sense for building-services engineers to pay attention to commercial boiler plant when advising clients on their carbon-reduction strategies. Reductions in energy consumption for heating of 10% or more are easily achievable through maintenance and low-cost improvements.
So how do we achieve that.
Controls
Firstly, putting the right controls on a boiler system is essential. The minimum control strategy should encompass valved zone control, thermostats and timers. Further improvements can achieve good savings (see below).
Insulation
Boiler insulation degrades and on old equipment can account for heat losses of 10% of the energy input. Insulation should be replaced when it is showing signs of wear. Similarly, the insulation on the associated pipework and valves should be replaced over time. This can result in further savings of up to 10% of the energy input.
Flue dampers
The flue can cause a flow of air through the boiler even when it is not firing — cooling the boiler and wasting energy. A flue damper can be used to close off the flue when the boiler is not firing, preventing this energy loss.
Variable speed drives and pumps
On forced- or induced-draught boilers, a variable-speed drive will allow the fan to operate at lower speeds when less air is required. A reduction in fan speed of just 10% can result in fan energy consumption savings of 20%, and a reduction in fan speed of 20% will save up to 40%.
Variable speed pumps can also be fitted to decrease the flow in the system to match demand. This can save 25 to 50% of the pumping energy consumption.
Maintenance
Effective maintenance is critical to ensure the best performance from your boilers. A full boiler service should be carried out on an annual basis, ideally before the start of the heating season. This service should include flue-gas analysis, controls calibration, burner cleaning and limescale treatment.
For example, if combustion conditions are not right, particularly if too little air is used, soot will build up on the fire side of the boiler's heat exchanger. This creates an insulating layer, inhibiting heat transfer to the water. A 1 mm layer of soot will cause a 10% increase in energy input to the boiler to meet the same heat demand.
In hard water areas, limescale can build up on the water side of the boiler's heat exchanger. This also creates an insulating layer, also inhibiting heat transfer to the water. A 1 mm layer of limescale will cause a 7% increase in energy input to the boiler to meet the same heat demand. The most effective method of limescale removal is through chemical treatment. This should be done annually by a qualified technician.
Remeha has a large network of approved subcontractors that are available to service and maintain your boiler, backed up by our own product support engineer team.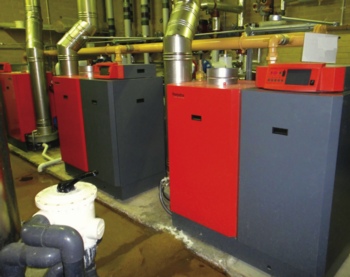 Replacing old boilers in Esporta gyms and health clubs is expected to reduce gas consumption by up to 45% — but substantial savings can also be made to existing installations.
Mark Northcott is managing director of Remeha Commercial.
---
Are you in control of your boiler?
Improvements to boiler efficiency can be made by implementing a range of control techniques.
• Sequential control of boilers
• Thermostatic radiator valves (TRVs)
• Weather compensation
• Optimised start/stop
• Full zoned time control
• Full building-management system
• Decentralising the heating system to avoid long pipe runs
Sequence control enables two or more boilers to be switched on or off in sequence when the heating load changes. This maximises the efficiency of the boilers — reducing fuel consumption and wear and tear on the boilers.
Direct-acting weather compensation allows the boiler to vary its operating flow temperature to suit weather conditions and the temperature inside the building. Weather compensation relies on communication between an external sensor and one inside the boiler. The boiler's water flow temperature is varied accordingly, so that energy is not wasted by the boiler turning off.
Weather compensation via a mixing valve is similar except that the temperature of water supplied to the heat emitters is controlled by mixing the boiler flow and return rather than by altering the boiler temperature.
Optimum start is a control algorithm which starts plant operation at the latest time possible to achieve specified conditions at the start of the occupancy period. Optimum stop is an algorithm which stops plant operation at the earliest possible time such that internal conditions will not deteriorate beyond preset limits by the end of the occupancy period.
Sequence control could save 5 to 10% of the overall energy consumption of the boiler plant. Most buildings with standard operating hours would benefit from installing optimised start/stop control. Again, savings of 5 to 10% could be achieved.
comments powered by

Disqus