Manchester Airport upgrades air-handling units to reduce energy use and CO2 emissions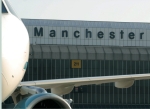 Upgrading air-handling units at Manchester Airport with ABB low-voltage drives and high-efficiency motors is savings 4 GWh a year and reducing CO2 emissions by around 2200 t a year. The project involved replacing drives and motors in 95 AHUs throughout three terminals Each AHU has a supply drive and motor and extract drive and motor, with motors ranging from 3 to 90 kW.
Andrew Sheridan, services facilities manager for Manchester Airport, explains, 'The Airport has a commitment to achieve carbon neutrality by 2015. Together with our need to reduce costs and our environmental commitment, looking to improve the air-handling units in the terminals was an obvious choice.'
To asses the capabilities of new motors and drives, extensive trials were carried out on two AHUs serving the Terminal 1 check-in hall. 'Terminal 1 is some 50 years old,' says Andy Sheridan, 'and the normal practice at the time was to oversize motors. By installing the latest ABB IE2 high-efficiency motors and resizing them to a more suitable frame size, energy savings of up to 5% can be realised.'
ABB standard drives were installed on these two AHUs and the results monitored by the airport's engineering team using half-hourly energy meters for six months. Reducing the frequency from 50 to 40 Hz achieved savings of 50% with no noticeable change in airflows.
Another major element of this project was the use of energy-saving dust filters on the AHUs. Their lower pressure drop enables supply and extract fans to be run at lower speeds while maintaining the same airflow.
The ABB drives communicate over BACnet with the airport's BMS, enabling filters to be changed when needed.
Andy Sheridan concludes, 'We have a target to reduce our CO2 emissions by 27 000 t a year, so this one application has reduced our emissions by 10% of our target, which for us are very compelling numbers.'
Related links: