Biddle air curtains keep out the cold for rail passengers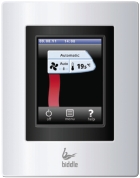 Automatic intelligent control of Biddle air curtains installed at railway stations across the Netherlands is achieving energy savings of up to 75% compared to manual controls. Dutch railway operator NS stations commissioned Biddle to supply air curtains for new stations in key Dutch cities, including Amsterdam, Rotterdam and Utrecht. The new facilities have a strong commercial focus, with shopping and dining outlets to attract travellers waiting for trains.
The Invisidor CA2 air curtains that have been installed can be automatically controlled by the self-regulating and intelligent CHIPS technology (corrective heating and impulse prediction system). CHIPS continually monitors and adjusts air volume, air velocity, discharge temperature and heat output independently to ensure the most appropriated settings are always selected.
Outdoor, return-air and discharge-temperature sensors determine the amount of heat and strength required.
At one station, the Biddle air curtain is paired with a Daikin VRV heat pump which draws heat from the outside air and supplies it to the air curtain. The heat pump reduces the need for electricity and can yield energy savings of over 70%.
Related links:
Related articles: