LED lighting that performs
The quality and performance of LED lighting varies enormously, and some installations can be very disappointing indeed. Marcus Brodin of Future Energy Solutions (FES), outlines the five key considerations when selecting LED lighting.
Lighting accounts for one sixth of the UK's total electricity usage, according to the Carbon Trust. If the Government is going to meet its stated targets for carbon reduction — at least 34% by 2020 and a minimum of 80% by 2050 when compared to 1990 levels — the nation's 1.8 million commercial buildings will need to dramatically reduce their energy consumption.
With rising utility bills and growing legislative pressure for companies to reduce their carbon footprints, it is not surprising that a technology that can save money and lower carbon footprints is turning heads. Light-emitting-diode (LED) lighting has created a seismic change not seen since manufacturers of gas lamps witnessed the introduction of the carbon-filament lamp. So much so that the global LED lighting market will be worth $25.4 billion in 2013, according to a Digitimes Research Special Report.
Understanding the changes being brought about by LED light sources means that the entire value chain now has to engage with a re-education on the basics of light generation and application. Not all LED lighting solutions are the same, and to get the maximum possible benefit from this technology, it is important to be able to differentiate what's on offer in the market and make the right purchasing decisions.
The five most important questions to consider when choosing an LED solution are as follows
• How much should I spend?
Perhaps the biggest barrier to widespread adoption of LED lighting over recent years is its price. While production costs have fallen dramatically in the last few years, some solutions are now considerably cheaper than others.
When it comes to LED lighting the old adage 'you get what you pay for' should be kept in mind, and the pitfalls of selecting a poor-quality product must be avoided at all costs. Premature product failure, poor lumen output, low lm/W and inefficient design are just some of the factors that can compromise a lighting scheme. In addition, the knock-on effect of having to replace products can quickly have a negative effect on any return on investment (ROI).
There is no definitive answer as to how much should be spent but it's a fair assumption that if you buy cheap, the chances are that you will have to buy twice.
• Where is it from and how important is a warranty?
The vast majority of low-cost and poor-quality LED lighting products originate in China. Although the country is beginning to address this issue, buyers should still beware. According to Lux Research, China's LED lighting market will more than double to $7.4 billion in 2017, indicating that a significant number of the estimated 5000 manufacturers there are undercutting their rivals by using low-quality components.
Unfortunately, if something goes wrong with a Chinese product, the cost of sending it back from the UK is likely to be prohibitive. Conversely, a product that is manufactured, sold and under warranty in the UK will mean a swifter resolution if there's a problem.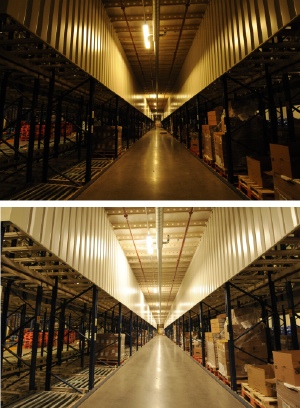 • Will it do what it says it will do?
When specifying a product the chosen manufacturer should always be asked to provide full photometric and electrical data, as well as conformance certificates to ensure that the product will provide you with the full benefits of your investment.
Although this information can be useful for calculating ROI, be sure to establish whether the tests were carried out in-house or by a reputable third-party testing organisation. Results from the latter are always preferable.
• Which accreditations should it have?
A lack of recognised and enforced standards has resulted in a dramatic variation in the quality of products currently on the market.
However, LED luminaires sold on the European market should, by law, carry the CE mark, which is a statement by the manufacturer that the product complies with all the relevant EU legislation, including product safety standards and directives.
• What level of energy savings and carbon reductions should I expect?
The answer to this question depends on two factors – the quality of the products and how they are configured and used.
One key piece of advice is to validate the output of a luminaire. A 20 W lamp might use 25 W, which means that any energy usage calculations could be incorrect by as much as 20%. Also, a product that needs replacing after 50 000 hours will result in a higher total cost of ownership than one that lasts for 90 000 h, so always factor this in and be realistic.
The energy savings can be highly impressive. For example, we recently finished the first phase of a project for National Car Parks (NCP), which, when completed, will have involved the installation of over 65 000 energy efficient LED luminaires in 149 multi-storey car parks. The use of LED lighting will generate energy savings of over 65%, and the effect on the environment will also be significant. NCP's CO2 emissions will be reduced by 11 000 t per annum and mono-nitrogen oxide (NOx) will be lowered by 112 kg over the same period; this is the equivalent of 16 acres of forest being saved and 11 cars being removed from the road.
Marcus Brodin is commercial director at Future Energy Solutions.
Related links:
Related articles: