Distech's three-in-one communicating sensor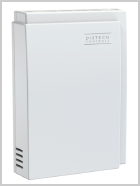 Distech Controls' EC-Smart-Air is part of the Allure series of communicating sensors and is designed for projects that require precise environmental control. These three-in-one sensors combine temperature, humidity and CO2 — enabling time and cost to be saved with just a single device to be mounted, wired and commissioned.
Sensing CO2 enables operating costs to be reduced by implementing demand-controlled ventilation, reducing building over-ventilation and avoiding conditioning outside air unnecessarily.
EC-Smart-Air is compatible with ECL series LonWorks controls, ECB series BACnet controllers and Eclypse series BACnet IP and Wi-Fi controllers.
Easily wired to a dedicated subnet port, these sensors free up controllers' inputs. They can also be daisy-chained to one controller for increased range, so using less cabling in large open-space and multi-zone applications.
Related links:
Related articles: