Tate Modern has TABS on sustainability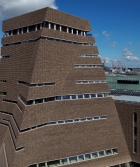 Rehau's thermally activated building structure (TABS) system is at the heart of the newly opened £260 million expansion to Tate Modern in London. PE-Xa pipework has been embedded in the concrete slabs that make up each floor of the new building to circulate cooled water and provide comfort cooling throughout.
The TABS system was specified by consulting engineer Max Fordham and is a key element in the M&E design. It also uses waste heat from EDF Energy's on-site transformers. The building has a BREEAM 'Very good' rating and is predicted to use 50% less energy than a typical gallery and generate 44% less carbon than required by current Building Regulations.
Work on the project began in 2012 when Rehau began supplying pipework and fittings to Byrne Bros Formwork to produce the pre-cast concrete slabs for the 10-storey building off site at its facility in Beckton, east London.
Loops of more than 24 km of pipework were installed on the reinforcement before the concrete was cast. Rehau's Everloc compression sleeve fittings were used to joint the embedded pipework when the slabs were delivered to site.
The TABS concrete core tempering solution transforms the slabs into huge thermal stores for cooling the gallery space. Groundwater is circulated through the pipework to optimise the sustainability of the installation.
The benefits of the TABS system include low investment costs and high levels of comfort and performance. It delivers 'soft cooling' with no draughts and the ability to reduce the output of other cooling devices.
This 64.5 m-high building has a distinctive perforated brick lattice facade and was designed by architects Herzog & de Meuron. Main contractor was Mace.
Related links:
Related articles: