Innovation in commissioning valves
Published: 02 September, 2004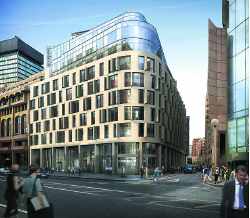 Innovation in commissioning — Yorkshire Fittings' Venturi commissioning valves have been used in sizes up to 250 mm in this project in the City of london.
Faster and more accurate commissioning for a major project in the City of London has been achieved using Venturi commissioning valves from Yorkshire Fittings. David Hearne, commercial manager for valves, says, 'The Yorkshire Venturi is the first innovative static commissioning product to enter the market in many years.'
Two Plantation place is a 14 500 m2 development. Some £30 000-worth of Venturi valves in sizes up to 250 mm were specified by consultants Arup Associates for installation by M&E contractor Crown House Engineering in the building's chilled-water and heating systems.
The main feature of these valves is a venturi measuring orifice which accelerates water flow, increasing the measured signal and ensuring the significant pressure loss common in other valve systems is recovered as it passes through. Energy is thus not needlessly expended in pressure recovery — making these valves highly energy efficient.
Other innovative features include built-in upstream and downstream lengths to ensure accurate measurement, isolation function and accuracy to within ±3% — compare with a typical ±5%. The 'groove' design creates two separate chambers around the Venturi cartridge, enables test points to be positioned in any orientation.
At 10 storeys high, Two Plantation Place is a significant building in one of the City's largest developments.
info@yorkshirefittings.co.uk
comments powered by

Disqus