ICS contributes to energy efficiency in the City
Published: 05 August, 2007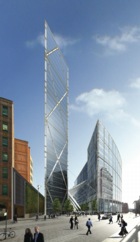 London's tallest buildings for several years will incorporate a building-management system designed and installed by Integrated Control Systems to contribute towards halving energy consumption compared with similar buildings.
Helping to halve the energy consumption of new buildings in the City of London compared with similar buildings is the installation of a £1.8 million shell-and-core building-management system by Integrated Control Systems. The project includes 201 Bishopsgate and the Broadgate Tower.
This is said to be the largest speculative office development ever undertaken in the City of London, and ICS has been appointed by Bovis Lend Lease working for developer British Land.
The £240 million project will incorporate nearly 75 000 m2 of new office accommodation across the two buildings, along with shops, bars and restaurants. The 178 m-high tower will be the third-highest in the City when completed next year and is the first tower to be built in the City of London for three years. It is also the first developer-led tower ever to be built in the City.
ICS has designed a system using a number of different integration methods and a Tridium integration platform to connect third-party systems and plant. A BACnet MSTP system at high level will connect the BMS and outstations. A BACnet IP system will connect chiller and various elements of the infrastructure.
LON communications will be used in association with over a hundred fan-coil unit and outstation panels incorporated into the shell-and-core project.
comments powered by

Disqus