Hattersley press-fit valves are compatible with Geberit Mapress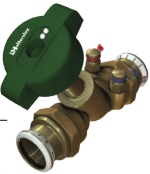 Hattersley has introduced a range of press-fit valves with integrated adaptors for the Geberit Mapress system. Comprising a ball, balancing, strainer and check valve, this range is suitable for use with copper from 12 to 108 mm and Geberit Mapress stainless- and carbon-steel tubing. By supplying the valve and adaptors assembled and tested as one unit, the number of purchased components and joints required on site can be halved — simplifying purchasing, reducing costs, shortening installation time and reducing the risk of a leak.
These press-fit valves are particularly suitable for pre-fabrication.
These Hattersley valves have parallel threads to achieve better resistance to bending forces and much greater reliability.
The O rings in these joints have three defined leak paths so unpressed joints can be easily identified and the joint completed without draining down the system.
A white foil indicator on the pressing drops off when the press-fitting tool has been used.
Related links:
Related articles: