Myson Floortec offers comprehensive guarantee for underfloor heating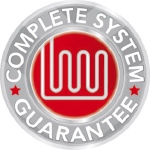 Myson Floortec, which manufactures underfloor heating systems, has launched a new guarantee to give installers and home owners greater peace of mind. For an underfloor heating system to work efficiently and be free of problems, all components need to be compatible. Many quality issues have arisen in the past because of incorrect combinations of components, often from different manufacturers. In such circumstances, the cost associated with incorrect design or potential remedial work must be borne by the installation company rather than individual manufacturers.
That is why Myson has introduced a complete system guarantee that promotes the advantages of tried-and-tested component compatibility
The guarantee clearly defines the responsibility if anything goes wrong and promises efficient performance and co-ordinated components from Myson, as well as the company's flexibility of product and assurance of quality.
Myson Floortec's complete underfloor heating systems use perfectly matched components, giving the company the confidence to give a £2 million, 10-year system warranty covering system performance.
Over 3.5 million square metres of Myson Floortec's underfloor heating are installed each year.
Related links:
Related articles: