Vaillant expands into commercial boilers
Published: 14 May, 2006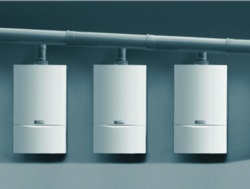 Available with outputs from 35 to 65 kW, Vaillant's EcoMax range of boilers marks the company's entry into the commercial market.
Vaillant is entering the commercial-boiler market in the UK with the launch of a range of wall-hung high-efficiency condensing boilers. There are three models in the EcoMax range with outputs of 35, 46 and 65 kW. They weigh 41, 45 and 72 kg, respectively.
These boilers have a fully modulating pre-mix low-NOx burner, stainless-steel heat exchanger and an advanced diagnostic user display.
A shunt pump is included in all models, and the smallest boiler also has an integral expansion vessel.
There are three flue options.
• 125 mm-diameter concentric flue.
• 80 mm twin flue for greater flexibility and multiple-boiler installations.
• 130 mm cascade flue system for up to 200 kW output.
Also supplied is an installation kit of two isolation valves, check valve, 3 bar pressure-relief valve and a connection for the expansion vessel.
The VRC 410s control system for a single boiler is a plug-in or wall-mountable weather compensator. It can control two zones with three time periods a day.
The is also a full range of controls for multiple-boiler installations.
comments powered by

Disqus