Ground-source heat pumps serve Edinburgh residential development
Published: 10 June, 2007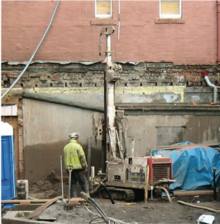 14 boreholes drilled in extremely tight conditions in Edinburgh serve a heat pump providing heating and hot water for new apartments in the Old Town area of Edinburgh.
Heating and hot water for 17 new apartments in the Grassmarket area of Edinburgh are provided using an Eco Heat Pumps system drawing energy from 14 boreholes. The apartments have from one to four bedrooms and are being created within Grade B listed buildings.
The 45 kW Thermia Robust heat pump extracts energy from the ground using a water-glycol mixture and can achieve a COP of 5:1 thanks to features such as a sub-cooler, de-superheater and the use of a scroll compressor. The average COP over the course of a year is 3.5:1.
The heating system in these apartments features weather-compensating controls using information from internal and external flow temperatures.
comments powered by

Disqus