Bitzer invests in increased production capacity
Published: 05 August, 2007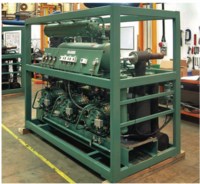 Bitzer has made significant investments in its production facilities at Milton Keynes to improve production of LH condensing units dressed for the UK market and refrigeration racks built for other Bitzer Group subsidiaries.
The 2000 m2 factory and warehouse has been redesigned so that over 30% is given over to manufacturing. Additional production cells have been created, together with a new layout of the production line to improve process flows from goods inward to final despatch.
State-of-the-art pipe-bending machinery has been installed, along with fume-extraction equipment, task lighting, test booths and materials-handling equipment. More people have been recruited to work on the production line.
Mark Sowden, operations manager at Bitzer UK, says, 'Demand for our condensing units in the UK, together with increased sales of refrigeration racks within the Bitzer Group, has underpinned our investments.'
comments powered by

Disqus