Fluorescent luminaires for warehouses and factories
Published: 06 October, 2007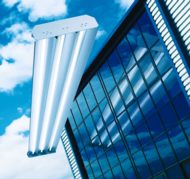 Jordan Groupís Hybatt range of high-bay luminaires uses TL5 fluorescent-lamp technology to help achieve an attractive slim design and qualify for Enhanced Capital Allowances. These luminaires also achieve significant energy savings compared with conventional high-bay luminaires. A typical comparison with 400 W metal-halide and 54 W HO luminaires shows savings of around 50%.
These fittings have an adjustable lamp position, so they can illuminate narrow aisles or large areas.
The lightweight steel body is teamed up with reflectors made from performance-enhanced Miro aluminium, which offers a light-output ratio of up to 98%.
The one-piece design ensures simple installation by reducing assembly and wiring requirements. These fittings are available with two, three, four and six lamps. Using more than one lamp ensures that lighting is delivered even if one lamp burns out. Multiple lamps also provide the ability to switch lamps, which can be linked to occupancy sensors for flexible operation. Hybatt fittings can also be supplied with a dimming ballast.
These luminaires are available as 3-hour emergency versions and as a fully sealed IP65 version for chemical and food-processing industries.
comments powered by

Disqus