Major upgrade of Empire State Building will slash energy costs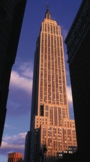 A US$500 million upgrade programme of the Empire State Building in New York is expected to reduce energy consumption by up to 38% and provide a replica model for similar projects around the world. The first phase is scheduled to be completed within 18 months and will achieve over half of the projected energy savings. The re­maining work will take a further 36 months.
The work is being undertaken by a team of environmental consulting, non-profit, design and con­struction partners. They include the Clinton Climate Initiative, Rocky Mountain Institute, Johnson Controls and Jones Lang LaSalle.
The project will prove the viability of energy-efficiency retrofit pro­jects in dramatically increasing building energy efficiency and reducing overall carbon output with sensible payback periods. Internal calculations show that the Empire State Building will qualify for GOLD certification for Leadership in Energy & Environmental Design (LEED) for Existing Buildings, and ownership intends to pursue such certification.
From a list of 60 options, the team identified eight economically viable projects, applicable to building-wide renovations, electrical and ventilation system upgrades and tenant space overhauls that will provide a significant return on investment — both environmentally and financially.
With an initial estimated project cost of US$20 million, additional savings and redirection of expenditures originally planned in the building's upgrade programme, an additional alternative spending in tenant installations, annual energy costs will be reduced by US$4.4 million and repay the net extra cost in about three years.
Related articles: