MHS supplies towel rails for London's tallest residential development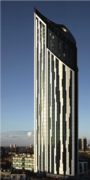 MHS Radiators has supplied 544 of its chrome and white electric-only Space towel rails for the 43-storey Strata SE1 residential tower in London. The project is part of the £1.5 billion regeneration of the Elephant & Castle area and is London's tallest residential tower.
The development has focused on sustainability with whole- house ventilation systems with heat recovery, district-heating systems, low-energy lighting and high-performance glazing. The top of the tower incorporates wind turbines that are expected to generate up to 50 MWh of electricity a year.
The development comprises 408 high-quality apartments in two buildings, both with space for shops and restaurants.
M&E contractor was Briggs & Forrester, which specified the Space towel rails.
For more information on this story, click here:
July 10, 138
Related links:
Related articles: