Heat pumps as a solution to community heating

Pippa Wibberley describes an integrated approach to community heating using heat pumps — a solution that can be retrofitted.
The UK is committed to reducing greenhouse gas emissions by a third by 2020. This legally binding target requires the UK to generate 15% of its overall energy consumption from renewables by the same date. Central to this goal is the introduction of the widespread use of community heating in domestic properties.
Community or district heating has long been central to the debate about how best to reduce carbon emissions from the UK's homes. The Coalition Government's 'Green deal' has underlined its commitment to the use of renewable heating technologies, and district heating is a logical progression of this thinking.
The theory is based on the fact that the shortage of land available for house building means that in recent years almost half of all new-build accommodation has been flats or apartments. This statistic, coupled with the fact that more than a quarter of the UK population lives in terraced housing, means that a huge proportion of our housing stock is high density. This pattern of homes built in close proximity to one another should, in theory, lend itself beautifully towards the use of community heating as a way of providing renewable heat technologies to the nation's homes.
So one of the challenges for the coalition Government is to establish a framework for community heating programmes, but doing this requires finding a way to overcome traditional barriers to the implementation of such programmes — such as how to overcome space limitations or how to retrofit a system.
Community heating has traditionally been limited to large scale combined heat and power (CHP), resulting in the need to find a convenient location for the infrastructure within a housing development. This has historically proved extremely difficult — not least because developers, understandably, want to use every inch of space for providing homes.
This drawback, combined with the 'not-in-my-backyard' attitude of many communities has meant that CHP solutions have often stalled before they have even got off the ground. But advances in technology mean that there are now other alternatives in the market. The industry itself has responded to the challenge with new products such as Daikin's Altherma community heat-pump solution for apartments and multiple dwelling blocks.
Such a heat-pump system for apartments and community heating aligns perfectly with the vision of a low-carbon economy and offers a highly efficient alternative to the more traditional community-based heating systems such as CHP or central boiler systems. Designed to provide heating for new and existing apartment buildings or housing blocks, it allows for the independent control of the heating and hot-water systems within each home, with the whole system powered from communal-based outdoor units.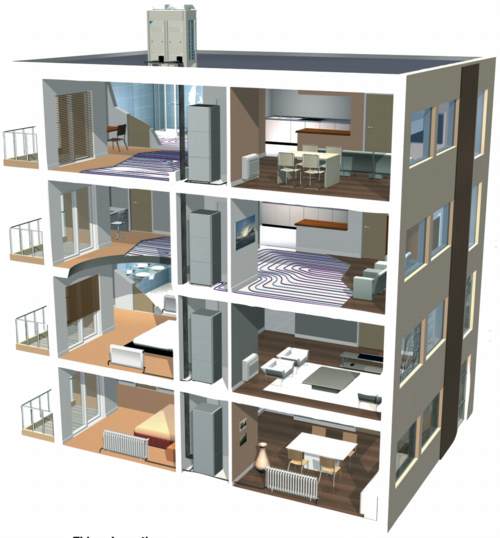 This system can heat efficiently with flow temperatures of up to 80°C, ideal for refurbishment. Domestic-hot-water temp­eratures of up to 70°C are possible, and the system provides optional cooling, with the leaving water temperature down to 5°C. The use of this system results in a 27% reduction in primary energy use, 59% lower CO2 emissions and 33% lower operating costs compared with an installation with old standard-efficiency individual gas boilers.*
This system has huge benefits over traditional community heating solutions, as one inverter-controlled outdoor heat pump unit can provide heating to up to 10 individual properties. Outdoor units can be placed on a high-rise roof, or to the side of a building, and multiple outdoor units can be installed for larger applications.
A small 'plug-and-play' indoor unit comprising the Hydrobox and the DHW cylinder is installed in each individual dwelling. It receives heat from the central outdoor unit, raises its temperature further by means of a second cascading heat-pump cycle on R134a refrigerant and feeds heated (or optionally cooled) water to underfloor elements, radiators or heat pump convectors as required.
Since connection between outdoor and indoor units is made by small-diameter refrigerant piping (as opposed to the larger water pipes used in other systems) and no shared flue is required. A small shared shaft is all that is needed to accommodate the system's flow and return connections from the outdoor unit This means that the system can be retrofitted into existing apartment buildings without having to take out existing flue shafts. Building heights (from rooftop outdoor unit to lowest apartment) of 50 m can be accommodated.
It is easy to see that these advances in technology have made a real contribution to the viability of air-source heat pumps becoming pivotal in the provision of renewable community heating solutions.
Pippa Wibberley is heating sales director for Daikin UK.
Related links:
Related articles: