JS Air Curtains welcomes customers to furniture store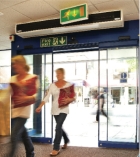 Reynolds Furniture has selected air curtains from JS Air Curtains Finesse and Optima ranges as part of a major refurbishment of its retail store in Bognor Regis. These units blend in discreetly with the surroundings to help maintain year-round comfort.
A family-run business since 1867, Reynolds is the largest furniture store in Sussex and needed to bring its 2300 m2 of retail space up to date and enhance its customers' buying experience. South Coast Refrigeration Services installed the new heating and cooling systems, including the air curtains.
A 1 m Finesse concealed air curtain was installed flush with the ceiling over the back door. A 2 m Mini Optima was suspended above the automatic sliding doors at the main customer entrances.
Martin Reynolds, finance director with Reynolds, comments, 'It was important the air curtains looked great, to match the aesthetics of our decor, as well as maintaining the ambient temperature. We have been very pleased with the result.'
Related links:
Related articles: