Making the most of commercial opportunities
With the financial incentives for heat pumps provided by the non-domestic Renewable Heat Incentive, Clyde MacVeigh of Dimplex Renewables looks at the opportunities for the commercial heat-pump market and explains the environmental and financial benefits for businesses.
Originally launched in 2011, the Government's non-domestic RHI scheme saw some initial success. However, the scheme was dominated by biomass technology as organisations took advantage of the good tariffs available for heat produced by biomass systems. Part of the reason for this was the glaring omission of air-to-water heat pumps from the original eligibility criteria. Now, the recent changes to tariff rates and the inclusion of air-to-water heat pumps are set to increase uptake throughout the commercial sector— as overall awareness of renewable-heat technologies and their cost-saving capabilities increase.
Under the changes, air-to-water heat pumps qualify for the RHI and have a tariff of 2.5 p/kWh. The tariffs for renewable heat generated by ground-source heat pumps have increased, with 8.7 p/kWh for the first 1314 h of operation and 2.6 p/kWh for subsequent hours. Solar thermal technology will also benefit from an increased tariff, up from 9.2 p/kWh to 10 p/kWh.
The improvements to the non-domestic RHI scheme are good news for building-services professionals and to organisations looking for an answer to rising heating bills. They are another step towards achieving the Government's target that 15% of all energy will come from renewable sources by 2020.
The inclusion of air-to-water heat pumps will finally provide further encouragement for building-services engineers and organisations to consider the long-term benefits of high-efficiency air-source heat pumps.
Air-to-water heat-pump technology is well established in the commercial sector. There are thousands of installations delivering low-cost, low-carbon heating for schools, offices, hospitals and more —helping buildings to meet required levels of efficiency and contributing significantly to high BREEAM scores for those buildings with additional sustainability targets.
The improvements to the non-domestic RHI scheme will not only facilitate new installations but could also support existing applications too. Any air-to-water heat-pump installation commissioned on or after 4 December 2013 is eligible to apply for the new tariffs, which came into effect on 28 May 2014. Solar-thermal or ground-source heat-pump installations accredited on or after 21 January 2013 are eligible for the increase to existing tariffs.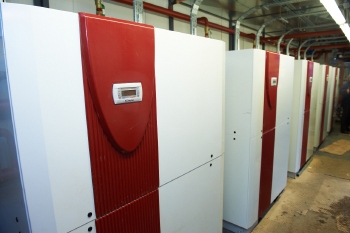 Although the initial capital cost of installing a heat-pump system can seem off-putting at first to businesses compared to, for example, oil or LPG boilers when specifying heating systems for commercial projects, building-services professionals must consider the long-term benefit of reduced heating bills.
With an initial tariff of 2.5 p/kWh, a 40 kW air-source heat pump producing 80 000 kWh of renewable energy in a year would receive around £2000 in annual RHI payments and start paying back in as little as seven years — on top of delivering dramatically reduced outgoings compared to oil or LPG heating.
In addition to their functional and financial benefits, the MCS heat-pump installer standard, which carefully regulates the installation and performance of air-to-water heat pumps, is making this an even more attractive solution for the highly regulated commercial sector.
Despite this opportunity for existing installations, it is perhaps the new-build sector which will open the biggest opportunities for renewable heat. The UK construction industry saw 13 consecutive months of growth up to May 2014, according to the Markit/CIPS purchasing managers' index (PMI). Despite a slower recovery than the house-building sector, commercial construction is expected to be up by 2.4% this year and 6% next year, according to the Construction Products Association. Output in the office and retail sectors are both expected to rise by 10% next year.
With Government targets set for all new-build commercial projects to be 'zero carbon' by 2019 and a target of 2018 for public buildings, air-to-water heat pumps are perfectly placed to help organisations meet the increasingly stringent legislation. This need for efficiency is especially significant in the health sector, with Government targets requiring public-sector new-build projects to achieve an 'Excellent' BREEAM rating, and an ambitious goal from the NHS to reduce carbon emissions by 34% in health-and-care facilities by 2020.
The addition of air-source technology to the non-domestic RHI will also come as particularly good news for schools and other large premises where new-build extensions are often required to supplement existing buildings. With the support on offer from financial incentive schemes like the RHI, heat pumps can tick the boxes for new-build projects and deliver low-cost heating too.
Clyde MacVeigh is marketing director for Dimplex Renewables.
Related links:
Related articles: