Waterloo's Collaborative Approach Supports New British Motorcycle Marque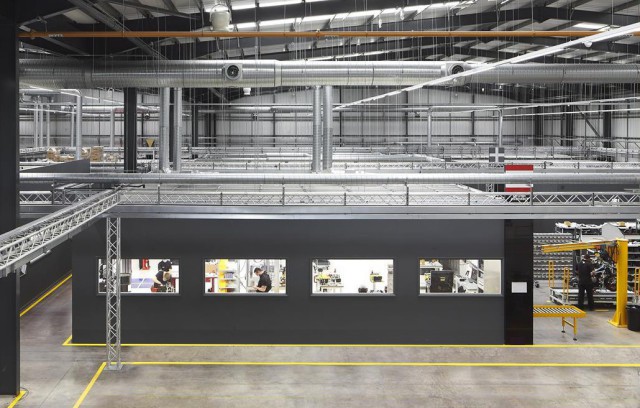 An iconic British motorcycle marque has moved into its new production facility at Solar Park in Solihull, with air distribution products supplied by Waterloo Air Products.
Speed was of the essence with this project in more ways than one, with a turnaround time of only two months from tendering to completion. Working with contractor Aldridge Air Conditioning, Waterloo was chosen to supply a range of diffusers to suit the differing requirements of the main manufacturing floor, engineering and testing rooms, office space and the customer-facing reception area.
Converting the former distribution centre into both a manufacturing floor and office space required an air distribution system designed to create a healthy environment for both machinery and people. At the same time, the aesthetics of the products used were a vital consideration to reflect the brand and provide the perfect backdrop for the luxury motorbikes.
Waterloo's extensive range of products and ability to respond quickly to ongoing adjustments to the design provided the agility and flexibility required for this type of refurbishment project. The air distribution system for the manufacturing floor where the motorcycles are hand-built has been fitted with Waterloo's RWH High-Flo Jet Diffusers. These models are designed to handle high air flow rates and provide relatively long throws, making them particularly suitable for this kind of large open space. The innovative reversible and rotatable core design of the RHW diffuser allows for the air jet to be adjusted for both pattern and deflection for increased flexibility of application.
Adjoining the manufacturing floor are a range of smaller offices used for engineering design and testing. These workspaces have been designed with exposed services, a factor which presents specific product requirements for both appearance and performance. Waterloo's solution for this application was the Circular Plate Vane Swirl Diffuser (SDVC) which was supplied with a powder-coated finish to match the exposed duct work. For the main offices, which are served by a local heat recovery unit, Waterloo specified a Square Plate Vane Swirl Diffuser (SDVS) which could be mounted within the gridded or plasterboard ceilings. Waterloo's Vane Swirl Diffusers are designed for these kind of office areas where rapid mixing of air supply is required in rooms of ceiling height between 2.6m and 4m.
Commenting on the suitability of Waterloo's products for this refurbishment, Glynn Taylor, Project Engineer at Aldridge Air Conditioning, said: "Product design and versatility is not the only reason why we chose to work with Waterloo for this project; equally important is the excellent working relationship that we have with the team. We know we can rely on Waterloo to support us every step of the way with technical queries and ongoing customer service after the project has been completed."
Waterloo is proud to be associated with a moment in British automotive manufacturing history.
Related links:
Related articles: