Air-conditioning specialist enters the 'boiler' market
For some time, major boiler companies have been exploiting heat-pump technology to develop new approaches to heating. Now a major air-conditioning company has done the same — and produced assessments of the potential of this technology for reducing carbon-dioxide emissions.The key to reducing carbon emissions from buildings is to use less fossil fuel. One approach to that objective is the application of heat pumps to entrain renewable energy from the environment to 'amplify' the electrical energy used. Exploiting this capability of heat pumps in the past has been hampered by their technology being alien to heating engineers who are familiar with wet heating systems. Now a major air-conditioning company, Mitsubishi Electric, believes it has broken down that barrier with the development of a 'heat-pump boiler'. Phil Ord, VRF product manager with Mitsubishi Electric's air-conditioning division, believes that if reducing emissions of carbon dioxide is important, heat pumps have a big future. Even in the UK with much electricity generated using coal or natural gas a heat pump with a seasonal COP (coefficient of performance) of just 2 will be associated with the same overall emissions of carbon dioxide as a gas-fired boiler with an efficiency of 95%. With greater COPs, heat-pump technology surges ahead. However, Phil Ord also points out that an air-source heat pump has to achieve a COP of 3.4 for heating to qualify for Enhanced Capital Allowances. A heat pump with that level of COP will emit about 45% less carbon than the aforesaid boiler — and running costs will also be lower. Phil Ord points out that if Britain moves towards electricity generation with lower carbon emissions, the emissions gap between heat pumps and gas-fired boilers will widen. He points out that this is the case in France, where much electricity is nuclear and there are massive tax incentives for using heat pumps. 'Heat pumps for heating air have been available for some time,' says Phil Ord. 'The water-heating products are coming.'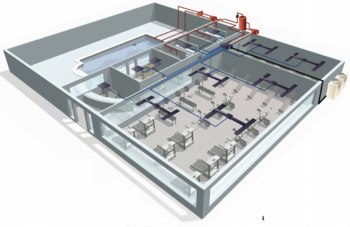 — Using the heat removed from the gym in a leisure centre to heat the swimming can reduce fuel costs by 88%, according to calculations by Mitsubishi.
At its simplest the PQFY heat-pump boiler uses an inverter-controlled City Multi VRF unit outdoors to deliver hot refrigerant to the indoor unit. Heat from the refrigerant is transferred to water for delivery at up to 45°C. That temperature is ideal for underfloor heating. It can also be used to provide basic heating for domestic hot water, with the temperature of the hot water increased to above 60°C by inline or immersion electric heating. More exciting, and with the capability of reducing carbon emissions even more, is recovering heat from elsewhere in the building and achieving a COP greater than five, or even as much as 6.5. Suitable areas of heat recovery could be a commercial kitchen or the gym in a leisure centre, with the heat from the heat-pump boiler heating a swimming pool. Mitsubishi currently offers two PQFY boilers, with heat outputs of 14 and 25 kW and COPs from 2.71 to 5.48, depending on load and ambient conditions. At the highest COP, carbon-dioxide emissions are reduced by over 60% compared with using a boiler. Multiple units can be served by one condensing unit to deliver up to 75 kW of heat. Because of the high capital cost of heat-pump technology compared with boilers, this concept is best suited to commercial applications or a residential system serving several dwellings. The ideal commercial application is one where there is always a cooling demand somewhere in the building.
Applications
To illustrate the potential of this technology, Mitsubishi has considered several possible applications. One is a leisure centre with a heated swimming pool and a gym that requires cooling — providing an energy source for the heat-pump boiler. The analysis assumes a 5 kW load overnight from 9 p.m. to 9 a.m., which can be served with a COP of four. A 15 kW heat load is assumed during the day from 9 a.m. to 9 p.m., served by the heat pump using heat recovery from the gym. Compared with a 90% efficient gas-fired boiler, carbon-dioxide emissions will be reduced by 94%, or nearly 17.5 t a year. Fuel costs would be reduced by 88%, or £4300 a year. Another application considers the generation of domestic hot water using heat recovery from the gym in the same leisure centre. The calculation is based on 200 litres a day of water at 60°C heated by a heat-pump boiler and immersion heater compared with a 90% efficient gas boiler. Carbon-dioxide emissions would be reduced by 60%, or 2.7 t a year. The annual cost saving would be £826, or 54% — giving a payback within the first year. Mitsubishi has also considered a restaurant with heat recovered from the kitchen being used to produce hot water for dishes. The assumption is a usage of 100 litres of hot water per hour for six hours at 60°C, generated using the heat-pump boiler and an immersion heater. Carbon-dioxide emissions would be reduced by 60%, or over 1 t a year. The cost saving would be 54%, or £308 a year — giving a payback of three years. PQFY units are part of the City Multi family, so they can be used with air-cooled, water-cooled or ground-source condensing units. They can also be integrated with a building-management system. Another perspective on the heat-pump boiler is its effective use of renewable energy. To achieve the same carbon-dioxide emissions and using Mitsubishi's figures, a down-sized boiler plant of 95% efficiency would need supporting by renewable energy providing over a third of the heating requirement. Try plugging those numbers into an SBEM compliance analysis.
Related links: