SummitSkills chief offers cautious welcome to Government approach to technology training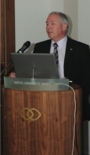 A cautious welcome to the coalition Government's approach to technology training has come from Keith Marshall, chief executive of SummitSkills, the sector skills council for building-services engineering. Speaking at the Spring conference of the Building Services Engineering Employment Agency Alliance, he referred in particular to two statements made by members of the new administration, both of which he sees as providing some cause for optimism.
The first was from universities and science minister David Willetts, a self-confessed 'believer in rigour and excellence in vocational qualifications just as much as in academic ones'. He emphasised the value that was being placed on 'qualifications like City & Guilds, BTECs, HNCs and HNDs' and on 'apprenticeships, which should wherever possible be equivalent to A-levels and linked to employers'. These Mr Willetts insisted, could be the route to 'that elusive technical level of skills which is one of our country's great weaknesses'.
The other statement came from John Hayes, Minister of State for Further Education, Skills & Lifelong Learning at the Department for Business, Innovation & Skills. He stressed, 'Adult learning is a cause which I have upheld throughout my whole career in Parliament, which I hold very close to my heart, for which I argued passionately in opposition — and which, with equal passion, I will champion in Government.'
He added that, in emphasising the importance of adult learning, he had found in business secretary Vince Cable 'a kindred spirit'.
While acknowledging that it remained to be seen to what extent the Government would stand firm on such pledges in the light of the need for significant spending cuts, Keith Marshall suggested that they represented a promising beginning.
Related links:
Related articles: