Stokvis offers bare-plate heat exchangers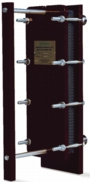 Stokvis Energy Systems offers the option of 'bare-plate' plate heat exchangers for situations requiring minimum control and other ancillary equipment. Units are supplied with a bare chassis and the customer's specification for number and size of plates, as well as its type and the gasket material. There are no pumps, modulating valves or temperature sensors.
Potential applications include refurbishment projects to isolate modern boilers from old heating circuits and to create a pressure break in high-rise buildings.
Such plate heat exchangers have also been used with geothermal energy using titanium plates to resist the corrosive effects of saline water.
Bare-plate models have low thermal inertia.
Related links:
Related articles: