Denco adds style to close-control air conditioning
Published: 19 June, 2005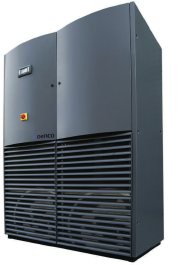 Why hide them? Denco's restyled close-control air-conditioning units are designed to be left on view rather then be concealed.
Denco has restyled its T and E ranges of close-control air-conditioning units. The modern graphite cabinets have curved fascias and strong front grilles embossed with Denco's dolphin logo. These units will not look out of place in areas where they are on public display.
The E range is available with 20 cooling capacities from 22 to 120 kW. T units have nine capacities from 3 to 42 kW in a footprint of 300 x 600 mm. They re available with R410A.
Both ranges can be supplied as upflow or downflow units.
Denco's managing director Mark Shutler says, 'Close-control air conditioning is as popular as ever because of the increasing complexity of modern offices and commercial premises. The ability to tightly control temperatures and humidity to with ±1 K and 50% RH ±5% is essential for many users. The obvious next step was to put this valuable technology in a more visually appealing cabinet
'At the moment, some designers spend inordinate amounts of time working out how to hide air-conditioning equipment, Now we hope they will leave them on display and save themselves considerable time and expense.'
A new Carel controller allows T and E units to be integrated with a wide range of different building-management systems. Units can be linked via Ethernet or work individually.
The controller can be configured to drive external devices such as pumps and fluid cooler that might form part of a glycol-free cooling system or a fresh-air unit with multi-stage cooling or heating.
comments powered by

Disqus