Easing the strain
Published: 08 September, 2016

Water distribution systems are designed to last a long time and be trouble free, but as we all know this is not always the case. Paul Woodley, Customer Service Engineer at Marflow Hydronics considers the solutions that can reduce the risk of problems occurring.
One of the most well-known issues with water distribution systems is that of debris and dirt in the system, which over time causes the efficacy of water management equipment to deteriorate or cease operating completely which in turn causes problems with pressure and flow. Once this occurs it is almost impossible to return the system to the efficiencies attained at the handover stage. The sub- standard performance of the water distribution system not only causes problems for the building's occupants it may also create un-necessary expenditure when identifying and rectifying the problem.
The process followed when commissioning a system means that the water quality of a newly commissioned building must be to an acceptable standard and maintained to that standard. Without a planned maintenance schedule in place water quality may decline and eventually dirt and debris enter the distribution system and clog up waterways and equipment.
There is a popular belief that strainers improve water quality and that fitting them into a water distribution system will mean that the risks of problems are reduced, this only holds true if there is a planned maintenance schedule in place to remove the debris that the strainers trap. This can be a difficult and time consuming task, isolation valves up and downstream of the strainer need to be located and closed and then the strainer needs to be removed, emptied and returned to position before opening the isolation valves again. This process may also introduce air into the system thus creating a different problem to resolve.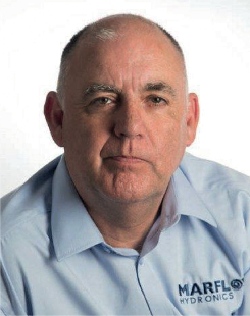 The Marflow Hydronics Filterball™ is a compact combined isolation valve with in-built strainer which obviates the need for separate isolation valves and traditional strainers. It has been designed so that it is easily accessed and operated with a removable filter available in a range of mesh sizes. The simple on/off handle isolates the system in seconds and the strainer basket is easily accessible making the maintenance process simpler and quicker. The Filterball™ is easy to fit and installation time is greatly reduced as there is only one valve in place of a strainer and two isolation valves. It is available in a range of sizes from 1⁄2" to 2"
If you're interested in learning more about the Filterball™ product and the rest of the Marflow Hydronics' portfolio please visit the link below and click on the Pipeline Valves tab.
For more information on this story, click here: September 2016, 07
comments powered by

Disqus