Wieland makes connections in The Walbrook Building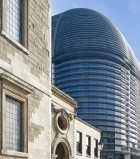 Wieland Electric's Metalynx structured wiring system has been used for the connection of power and lighting in The WalBrook Building in London. This purpose-built office headquarters in the City of London opposite Cannon Street Station.
Installed by M&E specialist Bancroft, the recessed modular lighting and power is fed via separate master distribution boards using Metalynx, which has allowed the home runs to continue along the containment route to the open-plan areas.
From there, fan-coil units and lighting-control modules (LCMs) were fed using Wieland extenders, tees and fused spurs. 3-core and Belden Metalynx leads were used to feed the LCMs, and the fused spurs are fed by 3-core Metalynx leads.
The structured wiring system enabled Bancroft to make the best use of the time on site and maximise productivity. Wieland ensured the goods were delivered within the tight timescale given and offered on-site project management and technical support.
All Metalynx cables have low-smoke zero-halogen insulation.
Related links:
Related articles: