CPD training from Rinnai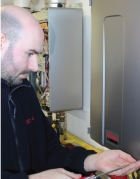 Rinnai offers nine CPD training modules on water heating, with a particular focus on continuous-flow water heating. The modules are CIBSE approved. They are designed to enable delegates to take on board the practical and energy-saving benefits of continuous-flow gas-fired water heating. The courses are aimed at M&E consultants and specifiers, design-and-build engineers, facilities managers and gas engineer contractors.
They cover traditional and new technologies for commercial water heating and highlight the considerable energy and monetary savings that can be achieved using a continuous-flow hot-water system.
Related links: