Water booster for homes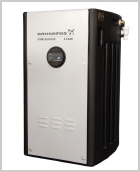 The Grundfos Home Booster set is a self-contained unit designed for domestic properties where the existing mains water supply is insufficient to meet the demand requirements of pressurised hot- and cold-water systems. These units are suitable for most domestic premises with one or two standard bathrooms with standard fittings, or en-suite, and cloakroom — plus other normal household appliances.
Installation requires simply connecting the mains cold-water supply, discharge pipe, overflow pipe and electrical connections. Sets are typically installed in a utility room or garage.
Related links:
Related articles: