Clyde helps Bromley move to condensing boilers
Published: 17 October, 2006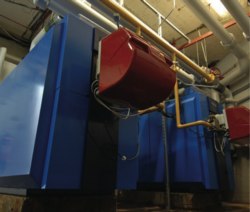 Clyde condensing boilers with a high water content and large waterways have replaced existing boilers for Bromley Council to avoid problems with debris in the heating system.
Clyde Energy Systems has helped bring Bromley Council up to speed on condensing boilers with a CPD session on Part L of the Building Regulations and the replacement of old boilers with condensing boilers.
Martin Handley of Bromley Council's planned-maintenance projects team explains, 'We want to promote energy efficiency, and that means using technology such as condensing boilers.'
Clyde offers CPD seminars on two themes, the other being the use of sustainable energy sources and heat pumps. They are provided free to groups of interested professionals in their own workplace and last 45 minutes.
The installation involved replacing central-heating boilers in two 3-storey 1930s building at Bromley Civic Centre. The council was concerned that debris from the old heating system could block the small waterways of many new boilers. Clyde Energy Solutions suggested a boiler with a high water content and large waterways. Two condensing boilers were installed, with a combined output of nearly 500 kW.
comments powered by

Disqus