New slot ventilators help comply with Part F
Published: 11 April, 2007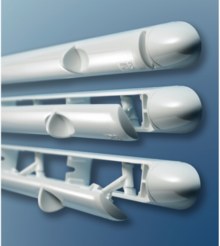 Solving Part F requirements for ventilation in new buildings — Titon's Trimvent Select Xtra slot ventilators have equivalent areas from 4000 to 4600 mm2.
To help manufacturers and installers of windows comply with Part F (ventilation) of the Building Regulations, Titon has introduced a new range of slot vents, Trimvent Select Xtra.
They are available with equivalent areas of 4000 to 4600 mm2. In new buildings, where there are a limited number of positions for installing slot vents, the Xtra range will normally provide the necessary background ventilation to conform with Part F without having to consider larger and more costly options.
Xtra slot ventilators are all marked with their equivalent area to simplify selection. They can be fitted to timber, aluminium, uPVC or composite windows and are ideal for night ventilation without compromising security.
comments powered by

Disqus