Priva helps Dublin school go greener
Published: 14 October, 2007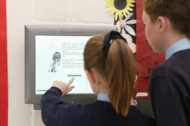 Not only does the Priva BMS in a pioneering new school in Dublin contribute to halving the energy consumption compared with CIBSE targets, but it also enables pupils to understand how the school operates using this touchscreen.
Monitored energy results for the first year of operation of the Archbishop Ryan School in Dublin indicate that its energy performance is twice as good as that of a school constructed to meet the good-practice targets outlined in CIBSE Guide F. Energy consumption was monitored by the Priva control system installed by Temperature Control Systems to optimise the operation of lighting and heating systems in response to the benefits of passive solar gain, daylight and natural ventilation.
This school is the prototype of a generic school design for a building of eight, 12 or 16 classrooms in accordance with technical guidance documents prepared by the Irish Department of Education.
The first step in delivering this energy performance was to design the building to maximise passive solar gain, daylight and natural ventilation. It also has only half the air leakage that is required by current UK Building Regulations.
Systems and controls were optimised to reduce the energy consumption of the lighting and heating systems, with particular emphasis on direct weather-compensation to maximise the efficiency of the modulating condensing boilers through direct control of its modulation.
Priva supplied a Compri HX8E controller with TC Select and XML, a language system to display information in a structured manner.
To enable staff and students to learn about energy-conservation measures and monitor internal air quality, a cartoon character is at hand on a dedicated wall-mounted touch-screen in the school's main circulation area. The data is supplied in a friendly format — such as water consumption being illustrated by the number of baths that could be filled.
Chris Croly, director of building-services engineering with M&E engineers BDP, explains, 'The provision of data in XML format by the Priva BMS was vital to achieving reliable information transfer between the touchscreen and the BMS. XML provides an open and easily understood method of communicating with a BMS and offers many interesting opportunities for increasing the user friendliness and flexibility of building-management systems.'
comments powered by

Disqus