Maintenance at Greenwich is no mean achievement
Published: 09 October, 2004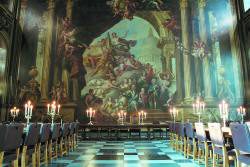 Among the areas cared for by Cofathec Heatsave at Greenwich Naval College is the magnificent Painted Hall.
Providing maintenance care for historic sites such as the Old Royal Naval College in Greenwich generates many challenging demands. Modern equipment is shoehorned into basement areas, there is a range of disparate building services, and architectural features and decoration demand great care when working.
Cofathec Heatsave has been on site since 2002 providing maintenance care for mechanical and electrical plant and also overseeing specialist sub-contractors covering lifts, security, fire-alarm and lightning-protection systems. There is a resident team of four, supported by engineers with specialist HVAC skills.
The contract is a mix of planned and reactive work, and Cofathec engineers have adapted well to the job-card system developed by the Greenwich Foundation that grades call-outs depending on urgency. The on-site engineers play an important role in identifying improved methods of operation that will enhance occupancy comfort and and make operational savings.
Plant ranges from 30-year old 370 kW gas-fired boilers through to modern modular boilers and convection services to supply heat to the site's buildings. The associated pumps, fans, air-handling units, temperature sensors and calorifiers have an equally wide age range, and they are under the control of systems from several manufacturers.
Inside, the decoration is spectacular. A fine example is the Painted Hall within the King William Building, where the walls are canvasses for the works of Sir James Thornhill from 1707 to 1726. A displacement heating system with zoned heat pumps and ducted air-handling units supplies conditioned air at low level, so that warm air rises naturally.
Lighting for this hall makes use of a 1.5 m-wide ledge at ceiling height, allowing the walls to be illuminated from above. The door for accessing this area is hidden within a painted panel, with only the keyhole being visible. A small spiral staircase leads to a walkway created within the roof area to provide access to the lighting equipment.
Energy-saving measures introduced by Cofathec include energy-efficient lamps throughout the site. Savings in toilet areas include regulated urinal flushing and controlled water supply to the taps.
comments powered by

Disqus