Tridium introduces cost-effective monitoring and control platform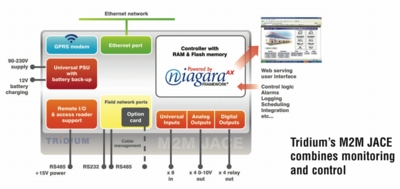 Tridium's M2M JACE combined monitoring and control platform brings better control, reduced carbon footprint and significant energy savings within easy reach of building owners and operators of multiple sites or single facilities.
This platform provides full integration, control, alarm, data logging, scheduling, network management, supervision and web-serving functionality using Tridium's fully open, multi-vendor, multi-protocol Niagara environment. It is ideal for remote monitoring, energy metering and building control via GRPS in new or existing stand-alone buildings or multi-site building portfolios and can integrate, control and manage a diverse range of building controllers, sensors, meters and other external smart products.
M2M JACE supports a wide range of open communication networks — including BACnet, KNX, Modbus, M-bus, SNMP, Z-waver, oBIX and LON.
The M2M JACE is a compact wall-mounted package with 16 I/O points as standard (more optional) in addition to wired Ethernet, RS 232 and RS 485 serial communication ports. The housing includes cable management and a 230 V power supply.
For more information on this story, click here:
Aug 09, 100
Related links:
Related articles: