Refurbishing buildings will play a vital part in meeting carbon targets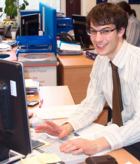 The refurbishment of existing buildings has to play a key role in the drive towards reducing the UK's carbon emissions — as David Davies explains.
It is the duty of the Secretary of State to ensure that the net UK carbon account for the year 2050 is at least 80% lower than the 1990 baseline.'
This is the ambitious legally-binding target that Government has set under the Climate Change Act 2008. By 2008 Britain had already cut emissions since 1990 by 21%, but the scale of the task ahead is still enormous, especially as much of that cut came from an unsustainable 'dash to gas' for power production. This summer, the Government published the 'Low carbon transition plan' to show how a reduction of more than a third on 1990 levels will be achieved by 2020. The report was split into five chapters, all of which are in some way building related — reflecting the fact that about half the UK's carbon emissions come from the built environment. The chapters are:
• power;
• homes;
• workplaces and jobs;
• transport;
• farming and managing our land and waste sustainably.
The construction industry has been set tough deadlines for our new buildings to be 'zero carbon' (see table), but the transition plan features many policies which aim to tackle the emissions of the existing stock as well.
Two thirds of the homes we will live in by 2050 have already been built, and a significant portion of non-dwellings that will be around in 2050 are already built. The existing stock is too large to ignore; we need to make them much more energy efficient and heat and power them from lower carbon sources — and we have to make a start now.
The 'Energy performance of buildings directive' includes measures that aim to reduce emissions from existing buildings. When a building is sold or let, an Energy Performance Certificate must be presented to prospective owners/tenants, highlighting how efficient the building design is, and where best to make improvements. Also, public buildings over 1000 m² are required to display an Energy Certificate. The Display Energy Certificate used in England, Wales and Northern Ireland identifies whether the building uses more or less energy than average, highlighting opportunities for action and motivating building occupiers to lower their energy consumption, bills and emissions.
To maximise carbon reductions possible through these new measures they must be implemented correctly. CIBSE, as an accreditation body for energy assessors, aims to ensure that our assessors produce good quality certificates and reports through high training standards and good quality-assurance procedures. In an effort to raise standards and levels of compliance, we are campaigning for Trading Standards to be more active in enforcing the regulations as they apply to existing buildings, to ensure that the full impact of the directive is achieved.
One particular energy-saving opportunity introduced by the EPBD is the air-conditioning inspection. Already a legal requirement for all systems over 250 kW, these have the potential to identify significant savings in the operation of air conditioning systems.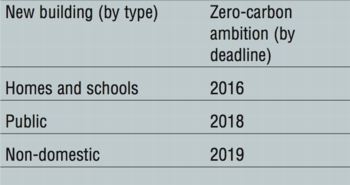 Another key measure to reduce carbon emissions of existing buildings is Part L of the Building Regulations, in particular the requirements for existing buildings when they are refurbished.
The 2006 changes to Part L introduced emissions targets for new buildings. Existing buildings, however, do not have such clear goals to achieve. Consequential improvements currently only apply to existing non-dwellings. When an existing building is refurbished, 10% of the value of the principal works should be spent on improvements to the energy performance of the building. Whilst there is considerable detail to get right for consequential improvements to be implemented correctly, this is a significant opportunity for savings.
There is a law of diminishing returns around carbon savings whereby it is more cost effective to make moderate carbon savings to our existing stock before we embark on zero-carbon construction. There needs to be a far greater focus on improving existing buildings to reduce emissions if we are to approach the targets in the Climate Change Act.
The Government consulted on proposed changes to Part L this Summer with the changes due to come in to force October 2010. It is proposed that new buildings reduce carbon emissions by a further 25% from the 2006 target, increasing to 44% in 2013, followed by the zero-carbon deadlines shown in the table. However, consequential improvements for dwellings, were omitted from the consultation, despite 80% of respondents supporting the idea in the 2006 consultation.
The 'Low carbon transition plan' showed that there will be costs to the transition, but they are far outweighed by the costs if we do not act and face the expense of adapting to and coping with more significant climate change.
Most of the costs occur in the power sector where renewable sources, carbon capture and storage, nuclear power and an improved grid are all expensive options.
Meanwhile appropriate actions in homes and workplaces are generally cost negative — i.e. the money saved, usually from increased energy efficiency, outweighs the investment. It therefore makes a lot of sense to improve our existing building stock purely for financial reasons. When you add the environmental, social and ethical arguments too, there are plenty of reasons to act.
David Davies is technical office with the Chartered Institution of Building Services Engineers.
Related links:
Related articles: