The rise and rise of underfloor heating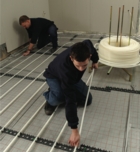 Justin Mc Inerney shares his enthusiasm for the many benefits of underfloor heating — enthusiasm bases on 20 years of experience.
Underfloor heating is the modern, economic and discreet heating solution. As more and more plumbers, engineers and architects adopt the technology, radiant heating underfloor systems are becoming the informed choice.
Whilst underfloor heating is quickly becoming the modern preferred solution, reports of its effectiveness are nothing new. In the 1980s, underfloor heating was a niche product for a limited market made up primarily of self-builders who had come across underfloor heating on their travels around Northern Europe or at self-build exhibitions. Self-builders appreciated an unobtrusive heating system that offered comfort along with aesthetic freedom.
Nowadays, its aesthetic benefits are only part of the reason why this economic and easily installed heating solution has taken off. It wasn't just consumer demand that pushed the innovative technology found in modern systems into the limelight. Whilst initially the main impediment to market growth was a lack of installers, many of whom were apprehensive about the unknown technology, once they realised the potential of underfloor heating, the relative simplicity of installation, good financial rewards and lack of competition, it was installers driving the market forward.
Government targets of a 20% cut in carbon-dioxide emissions have led to changes to Part L of the Building Regulations. Part L focuses specifically on conserving fuel and power, reducing heat loss, improving energy efficiency standards, providing better insulation and ensuring more efficient heating systems in buildings. Compared with traditional radiator heating systems, underfloor heating is more fuel efficient, which results in a reduction of greenhouse gases and makes the entire system more environmentally friendly.
Underfloor heating has moved from a niche product 20 years ago to showing around 30% year-on-year growth in recent times, with its low carbon and energy-efficiency benefits being key factors. Demand for underfloor heating in the UK and Irish markets has risen significantly in recent years. It is cleaner, greener and more versatile, but there is still plenty of mileage ahead, especially in the commercial and industrial sectors.
There are certainly many benefits for the end user of underfloor heating, but there are also other factors that have led to the trade adopting the technology. Plumbers and engineers are realising that underfloor heating is 'flexible' in many ways. Instead of having to fit heavy radiators to walls, installers lay flexible pipe into pre-spaced plastic clips. With underfloor heating, gurgling pipes and pressure issues are a thing of the past.
The future for underfloor heating includes the growing retrofit market. Although not appropriate for every property, if there is sufficient insulation, good design and an experienced installer, underfloor heating is certainly a viable option.
Living with underfloor heating is a change that customers really notice. The temperature is constant, and superior controls deliver temperature on demand in every room. Regardless of the fuel used, the customer will see big cuts in energy bill thanks to vastly increased energy efficiency.
Aesthetically, the benefits come with what they don't see. The installation is completely concealed in the floor, and there are no system noises, no banging pipes or gurgling radiators. A benefit that many would perhaps not expect is that it's healthier. Underfloor heating warms the room without circulating dust through air movement, like most other heating systems, so it reduces the circulation of dust mites — an added advantage for those who suffer from asthma and allergies.
With so many benefits, it is no wonder that underfloor heating is proving so popular. Some would argue that such a superior system should fall into the luxury-home-owner bracket, but this, whilst perhaps once true, is no longer the case. Indeed, for those looking to buy or build a new property, one without underfloor heating is likely to be a slight disappointment and may even seem out-of-date.
Plumbers, engineers, architects and their customers have all begun to choose underfloor heating technology, being a heating solution that has more advantages the further you delve. Whilst heating systems such as radiators were once the standard, underfloor heating has become the benchmark for efficient, comfortable, clean and cost effective heating, for use throughout the building industry.
The flexibility of underfloor heating, particularly when partnered with renewable products to create a low-carbon renewable solution, ensures that it will become even more relevant in the decades to come, and its longevity is guaranteed by the need for energy efficient systems.
When sourcing an underfloor heating supplier, installers should look for a company that takes responsibility for the complete system. This is even more important when integrating underfloor with renewable technologies as the design must take into account the heat-loss calculations associated with lower-temperature heating systems. A reputable company should supply bespoke mechanical and electrical drawings for all projects, including comprehensive installation manuals. We have supplied underfloor heating for nearly 20 years and believe that design is everything.
Justin Mc Inerney is chief executive of Pulsar Direct.
Related links:
Related articles: