Commissioning and the Building Regulations

The latest Building Regulations increase the emphasis on commissioning — and building control offices are becoming more aware of the requirements, explains Hywel Davies.
The last few months have seen some significant changes to the Building Regulations. The latest revisions to Part L were published early in 2010. Whilst not on the scale of the 2006 revision, there is plenty of detail under the surface. There are changes to Part L, 'Conservation of fuel and power', or energy efficiency in plain English. There are four new approved documents, L1A and L1B covering new homes and work to existing homes, and L2A and L2B covering other new buildings and existing buildings, respectively. There are also changes to Part F on ventilation.
There are two new compliance guides, covering both domestic and non-domestic building services. Much detailed guidance relating to specific 'fixed building services' systems has been moved from the approved documents to the compliance guides, which contain the detailed guidance on lighting, hot water, heating and cooling and ventilation systems.
Part L, the regulatory requirement, is just a few short paragraphs requiring that 'reasonable provision shall be made for the conservation of fuel and power...', and 'fixed building services [shall be] energy efficient [and] have effective controls'. These requirements are a part of the Building Regulations and legally binding. In contrast, the approved documents are official guidance, along with the compliance guides.
The approved documents and compliance guides provide guidance on how to comply with the requirements in Part L; in other words, they explain what 'reasonable provision' could look like. They are not prescriptive, except where they quote the regulations, and each document makes it clear that there is freedom to make 'reasonable provision' — in other ways, as long as the building control officer accepts the alternative solution.
Commissioning of fixed building services
Part L requires commissioning of fixed building services. These are lighting, heating, domestic hot water, ventilation and air-conditioning systems. Requirement L1B says that fixed building services should be commissioned to ensure that they operate in an energy-efficient manner.
Commissioning of buildings and building services is vital for them to operate efficiently and effectively in accordance with the design intent. However, it is often not carried out systematically.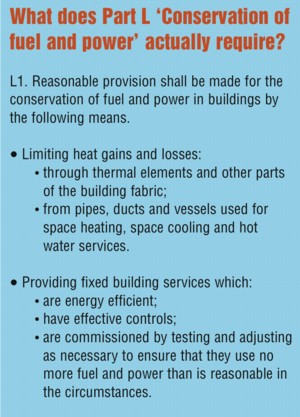 The CIBSE commissioning codes cover air systems, boilers, controls, lighting, refrigeration and water systems, all of which contain electrical components. Commissioning Code M provides an over-arching guide to the management of the whole commissioning process to deliver integrated working systems. Code M presents current standards of good commissioning practice in the form of recommendations and guidance and is the approved method of demonstrating compliance with Part L.
Code M may be used in a variety of contractual frameworks, and users need to ensure that its use is considered when contractual arrangements are being made to ensure that the recommendations of the code are not in conflict with those of the contract. In particular, it is important that contractual arrangements make due allowance for taking the needs of commissioning engineers into account during design stages and that the construction phase allows adequate time properly to commission building-services systems in full accordance with the requirements of Part L and the Code.
As well as Code M, the CIBSE lighting commissioning code covers lighting systems, which tend to be standalone. It advises on commissioning internal lighting systems and associated controls. Following this code when commissioning lighting systems is an effective way of demonstrating compliance with the requirement to commission.
Both codes contain specimen commissioning-completion certificates, which can be used to meet the requirement in the Building Regulations for the building control officer to receive a commissioning certificate.
A further requirement of Part L is the provision of sub-meters. These should be installed to measure at least 90% of the energy going into a building by end use, so that the user has clear information about where the electrical energy is going in the building. CIBSE also produces guidance on the design and installation of sub meters, in CIBSE TM39 'Building energy metering'.
There is a growing emphasis on commissioning within the Building Regulations, and a growing awareness of the requirement amongst building control officers. CIBSE Commissioning Codes M and L provide guidance on how to meet these requirements and demonstrate compliance with Part L.
Hywel Davies is Technical Director with the Chartered Institution of Building Services Engineers.
Related links:
Related articles: