Armstrong packaged pump sets are designed to reduce costs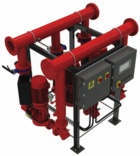 Armstrong has launched a series of pre-designed packaged pump solutions that offer specifiers low first installed cost, reduced footprint and the opportunity for outstanding energy efficiency. Pumps, pipework, controls and motive power are fully integrated, and the packages are made off site for fast and efficient installation.
The 8000 Series is described as complete fluid-management systems. They are pre-designed and pre-assembled by Armstrong, and there is a choice of four levels of control. Packages are fully assembled and tested before leaving the factory.
There are four options.
The 8001 series is the most basic option. It is a traditional-style fixed-speed packaged pump set without controls.
The 8002 is a variable-speed packaged pump set. It incorporates Armstrong's IVS pumps with motor-mounted inverters.
The 8003 also incorporates IVS variable-speed pumps with motor-motor inverter. Sensorless control is used, reducing the requirements for sensors in the systems, and automatically matching pump speed to building load without BMS control. This option is particularly suited to duty/standby applications up to 90 kW. A motor control panel is mounted on the set, which can relay alarms to the BMS. It is suitable for single-zone control.
The 8004 Series can control up to 18 zones and includes Armstrong's set-mounted integrated pumping system, which is fully wired and pre-commissioned to the pumps in the set. The system can operate without BMS control and can communicate to the BMS via Modbus as standard, LonWorks and BACnet. Other protocols are available.
3D and 2D drawings can be provided to enable designers to optimise the available space and accurately lay out the plant room in the early stages of a project for smoother installation.
Related links:
Related articles: