Money talks, but legislation bites

The current economic climate means there is little appetite for stepping up enforcement of European legislation, but new rules will still be influential, argues Ron Barker.
The economic turmoil in the Eurozone has radically shifted the backdrop for emerging European energy legislation. Shortage of investment in infrastructure projects is one sure outcome from the ongoing financial chaos, but similarly there will be increasing urgency for organisations to cut their operating costs.
Energy is now firmly established as a boardroom issue, and every penny saved on soaring gas and electricity bills goes straight to a company's bottom line. However, with investment capital in short supply there is a need to prioritise, and that is where legislation can be most influential.
The Ecodesign for Energy-Related Products Regulations (ErP) and the recast Energy Performance of Buildings Directive (EPBD) could have a huge impact on our market over the next few years by creating legal targets and standards for building-services design.
Ecodesign neatly complements the EPBD by taking whole-building targets and translating them into specific design requirements for individual systems within those buildings. It calls for two things.
• A harmonised energy-labelling system that gives end users all the information they need to make informed product choices.
• Energy-efficiency standards imposed from the very start of a product's design to ensure it performs efficiently throughout its operating life.
According to the European Commission, over 80% of a product's environmental impact is determined during its design phase.
The directive is a 'framework' agreement, so it does not set binding rules but, rather, defines characteristics — particularly energy consumption — that products must meet. However, at least in the early stages, the EU is looking for industries and individual member states to self-regulate under the Ecodesign Directive; it hopes that there will be no need to bring in mandatory regulation.
This marks a significant change in emphasis for regulation. No-one has ever been prosecuted for non-compliance with Parts L and F of the Building Regulations, for example. Yet more and more clients now insist that their buildings meet those standards — first and foremost to meet their own environmental goals.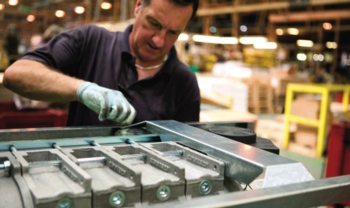 Manufacturers are already working towards the lifecycle standards expressed in the legislation, even though none of the provisions have yet been made mandatory. We are looking to abide by the 'spirit' of the legislation, as it is in the interests of both customers and product suppliers that equipment meets ever-rising energy-efficiency standards. The fact that some rules aren't always enforced does not mean the industry will not do the right thing.
The recast EPBD sets the overall context for tackling the 40% of all energy use across the EU that is accounted for by buildings. Most building managers could achieve its provisions at very low cost by adopting simple energy saving measures — such as upgrading heating plant and controls, improving insulation and building airtightness, and replacing inefficient lighting.
Europe wastes E270 billion Euros every year because of a lack of energy efficiency and emits 460 Mt of CO2 as a result, according to EU legislators.
However, the mandatory air-conditioning inspections and Building Energy Performance Certificates, which came out of the original directive, are simply not happening as quickly or universally as the legislators hoped. The rules are fine, but without anyone to enforce them, building users are able to move at their own pace.
The planned changes to the EPBD, including the removal of the size threshold so that energy-efficiency improvements will now apply to all buildings, the requirement for all public buildings to prominently display building energy labels and the harmonisation of training programmes for installation and inspection will most likely suffer a similar fate.
However, there is another aspect of changing legislation —communication of energy matters to the general public. This is seen as a valuable exercise in its own right and is based on the premise that if people know what they are wasting and what they can do about it, they are more likely to act.
For example, the new EPBD will include the mandatory requirement for landlords to inform tenants about what improvements should be carried out in the building they are renting. Individual governments can, therefore, go a long way to meeting the directive's requirements if they set up comprehensive energy-communication campaigns. This is seen as more realistic than recruiting armies of enforcement officers.
It is only by alerting building owners and occupants to the issues and possible low-cost remedial measures that we will have a chance of meeting the EU target to reduce the primary energy used in Europe by 20% by 2020. Commercial buildings account for 30% of energy use and residential buildings 27%, which is why our industry is in the spotlight on this.
Legislation is a slow and imperfect way of bringing about change, but it does give a legal context to our attempts to persuade clients why they should improve energy efficiency. In the end, though, it will be the financial argument that wins the day and ensures that building owners are doing the right — and legal — thing.
Ron Barker is group product manger with Ideal Commercial Heating.
Related links:
Related articles: